WA1095508
Regular price
Sale price
$39.00 USD
Unit price
per
Sale
Sold out
Use your

account at checkout.
Share
Keith Richards and Mick Jagger became childhood friends after realizing they shared a love for R&B in Dartford, Kent, until Jagger's family moved to nearby Wilmington. Jagger formed a band, Little Boy Blue and the Blue Boys, with Dick Taylor, mainly playing Muddy Waters, Chuck Berry, Little Richard, Howlin' Wolf and Bo Diddley material. Jagger was reacquainted with Keith Richards in 1960 at Dartford railway station.The Chuck Berry and Muddy Waters records that Jagger carried revealed a common interest that prompted their musical partnership. Richards joined Jagger and Taylor at frequent meetings at Jagger's house. The meetings switched to Taylor's house in late 1961, where the three were joined by Alan Etherington and Bob Beckwith. The band sent a tape of home recordings to Alexis Korner, who invited them to visit his rhythm and blues band, Blues Incorporated.[9] They went to the Ealing Jazz Club in April 1962, where Blues Incorporated were playing, with Charlie Watts on drums and Brian Jones sitting in on slide guitar for at least one song. From late April to early May 1962 Jagger and Richards would occasionally sit in with Blues Incorporated at Ealing and at the Marquee.

Brian Jones advertised for band mates in the Jazz News and Ian Stewart found a practice space and joined with Jones to start a rhythm and blues band playing Chicago blues. Shortly thereafter, Jagger, Taylor and Richards left Blues Incorporated to join Jones and Stewart in their effort. At the first rehearsal were guitarist Geoff Bradford and vocalist Brian Knight, both of whom declined to join the band citing objections to playing the Chuck Berry and Bo Diddley songs preferred by Jagger and Richards. In June 1962 the line-up was: Jagger, Jones, Richards, Stewart, Taylor, and drummer Tony Chapman. According to Richards, Jones christened the band during a phone call to Jazz News. When asked for a band name Jones saw a Muddy Waters LP lying on the floor. One of the LP's tracks was "Rollin' Stone".


View full details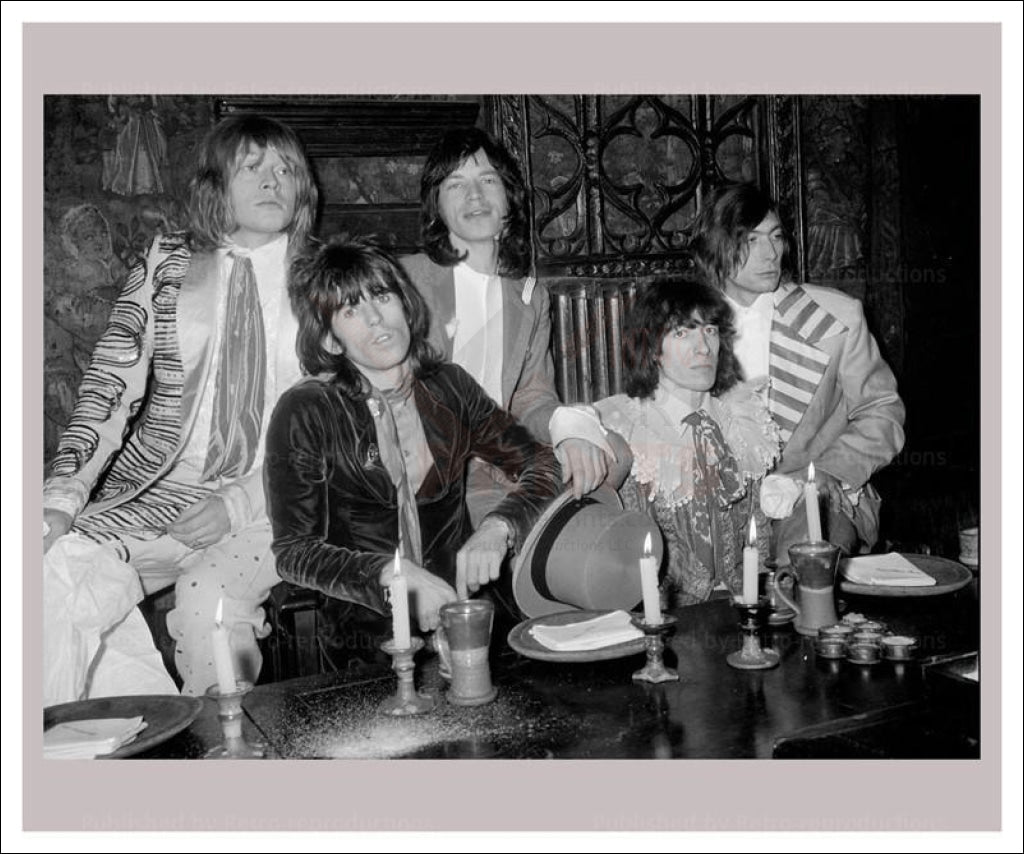 High Quality Reprints

Every piece of art is printed using premium materials. We carefully package and deliver your order to your door.

Wholesale Orders

We welcome wholesale inquiries on some of our products. Click here to learn more about our offering.