rrnm0082
Regular price
Sale price
$39.00 USD
Unit price
per
Sale
Sold out
Use your

account at checkout.
Share
Jean Delville (19 January 1867, Leuven – 19 January 1953, Forest, Brussels) was a Belgian symbolist painter, author, poet, polemicist, teacher, and Theosophist. Delville was the leading exponent of the Belgian Idealist movement in art during the 1890s. He held, throughout his life, the belief that art should be the expression of a higher spiritual truth and that it should be based on the principle of Ideal, or spiritual Beauty. He executed a great number of paintings during his active career from 1887 to the end of the second World War (many now lost or destroyed) expressing his Idealist aesthetic. Delville was trained at the Académie des Beaux-arts in Brussels and proved to be a highly precocious student, winning most of the prestigious competition prizes at the Academy while still a young student. He later won the Belgian Prix de Rome which allowed him to travel to Rome and Florence and study at first hand the works of the artists of the Renaissance. During his time in Italy he created his celebrated masterpiece L'Ecole de Platon (1898), which stands as a visual summary of his Idealist aesthetic which he promoted during the 1890s in his writings, poetry and exhibitions societies, notably the Salons d'Art Idéaliste.

Characteristically, Delville's paintings are idea-based, expressing philosophical ideals derived from contemporary hermetic and esoteric traditions. At the start of his career, his esoteric perspective was mostly influenced by the work of Eliphas Levi, Edouard Schuré, Joséphin Péladan and Saint-Yves d'Alveydre, and later by the Theosophical writings of Helena Blavatsky and Annie Besant. The main underlying theme of his paintings, especially during his early career, has to do with initiation and the transfiguration of the inner life of the soul towards a higher spiritual purpose. Specifically they deal with themes symbolising Ideal love, death and transfiguration as well as representations of Initiates ('light bringers'), and the relationship between the material and metaphysical dimensions. His paintings and finished drawings are an expression of a highly sensitive visionary imagination articulated through precisely observed forms drawn from nature. He also had a brilliant gift for colour and composition and excelled in the representation of human anatomy. Many of his major paintings, such as his Les Trésors de Sathan (1895), l'Homme-Dieu (1903) and Les Ames errantes (1942), represent dozens of figures intertwined in complex arrangements and painted with highly detailed anatomical accuracy. He was an astonishingly skilled draughtsman and painter capable of producing highly expressive works on a grand scale, many of which can be seen in public buildings in Brussels, including the Palais de Justice.


View full details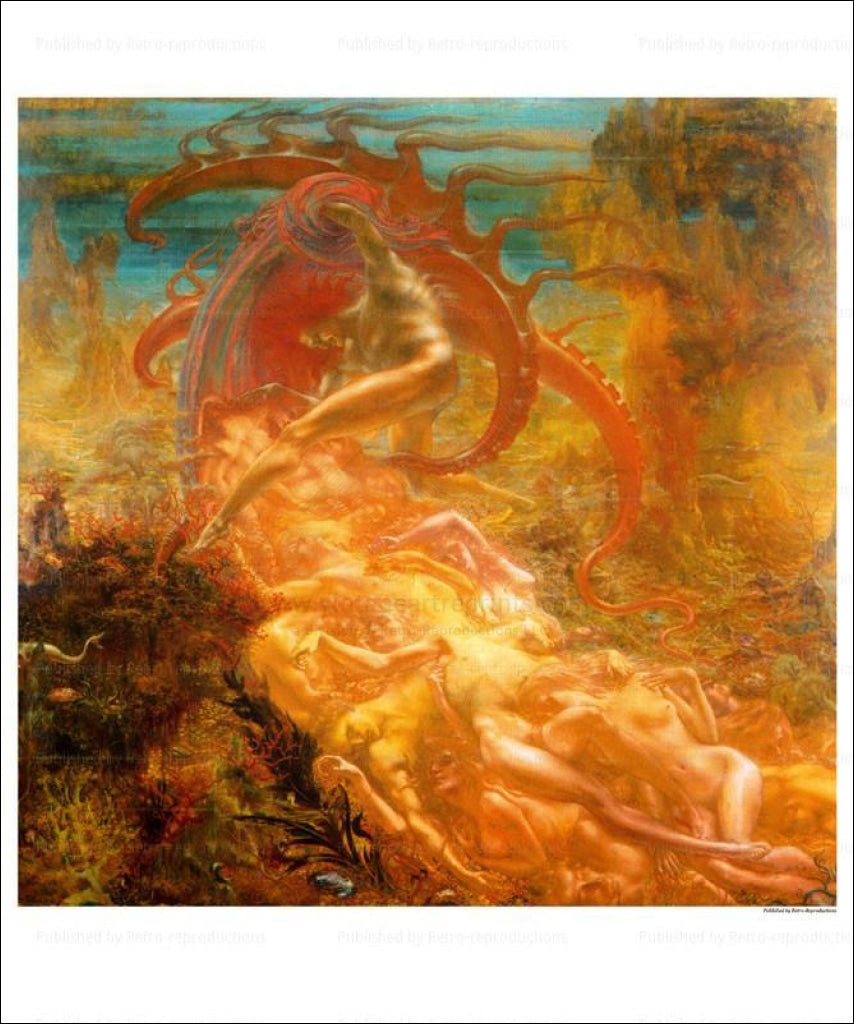 High Quality Reprints

Every piece of art is printed using premium materials. We carefully package and deliver your order to your door.

Wholesale Orders

We welcome wholesale inquiries on some of our products. Click here to learn more about our offering.