RRDG0034
Regular price
Sale price
$39.00 USD
Unit price
per
Sale
Sold out
Use your

account at checkout.
Share
The Afghan Hound is tall, standing in height 61–74 cm (24–29 in) and weighing 20–27 kg (44–60 lb). The coat may be any color, but white markings, particularly on the head, are discouraged; many individuals have a black facial mask. A specimen may have facial hair that looks like a Fu Manchu mustache. The mustache is called "mandarins." Some Afghan Hounds are almost white, but parti-color hounds (white with islands of red or black) are penalized in the AKC standard, but not by the FCI. The long, fine-textured coat requires considerable care and grooming. The long topknot and the shorter-haired saddle on the back of the dog are distinctive features of the Afghan Hound coat. The high hipbones and unique small ring on the end of the tail are also characteristics of the breed.

The temperament of the typical Afghan Hound can be aloof and dignified, but happy and clownish when it's playing. This breed, as is the case with many sight hounds, has a high prey drive and may not get along with small animals. The Afghan Hound can be a successful competitor in dog agility trials as well as an intuitive therapy dog and companion. Genomic studies have pointed to the Afghan Hound as one of the oldest of dog breeds.[11]

The breed has a reputation among some dog trainers of having a relatively slow "obedience intelligence" as defined by author Stanley Coren in The Intelligence of Dogs.

Although seldom used today for hunting in Europe and America where they are popular, Afghan hounds are frequent participants in lure coursing events and are also popular in the sport of conformation showing.


View full details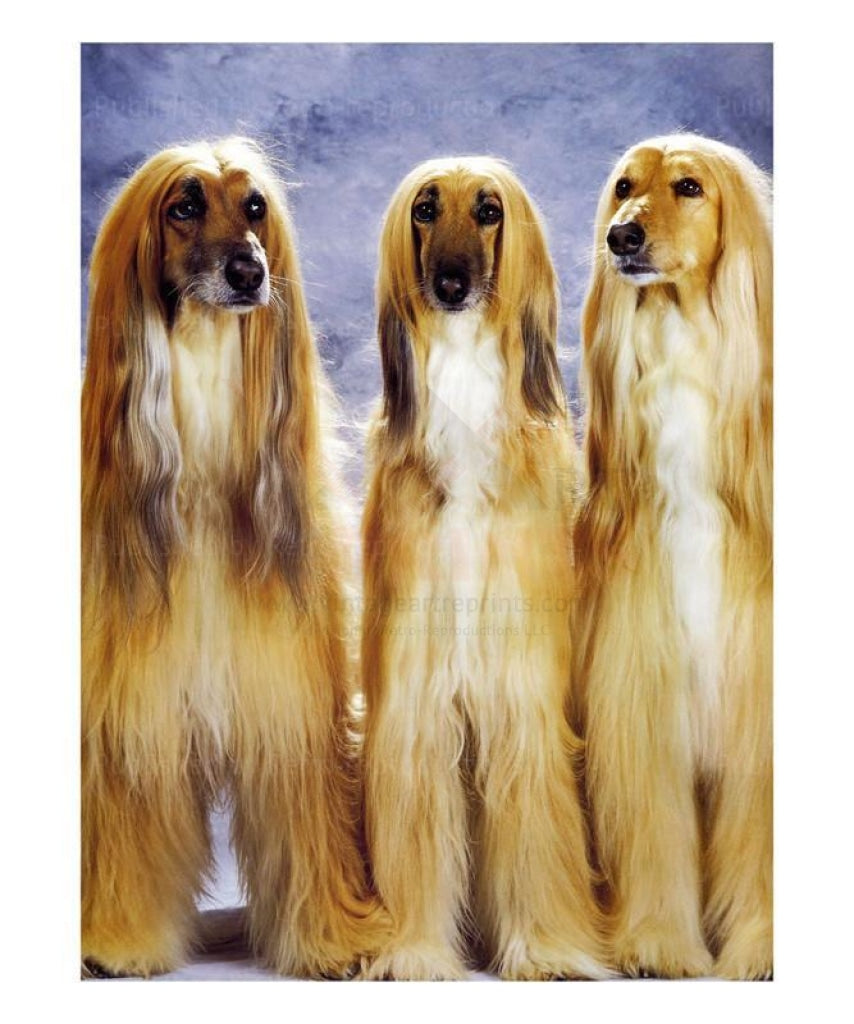 High Quality Reprints

Every piece of art is printed using premium materials. We carefully package and deliver your order to your door.

Wholesale Orders

We welcome wholesale inquiries on some of our products. Click here to learn more about our offering.