RRDG0023
Regular price
Sale price
$39.00 USD
Unit price
per
Sale
Sold out
Use your

account at checkout.
Share
Located in the heart of Paris, between the Place de la République and the Place de la Bastille, at the edge of the historical Marais. The Cirque d'Hiver is the world's oldest extant circus building and is a venue for dressage, concerts, fashions, etc. It is also still the world's oldest circus in activity. It first opened its doors in 1852. Its address, at 110 rue Amelot, may seem inconspicuous, but at that precise point, the rue Amelot opens onto the Boulevard du Temple through the small Place Pasdeloup: The Cirque d'Hiver is therefore quite noticeable, practically "on the Boulevards."

Originally, the Fratellini were four brothers: Louis (Florence, 1868-Warsaw, 1909); Paul (Catania, 1877-Le Perreux-sur-Marne, 1940); François (Paris, 1879-1951) and Albert (Moscow, 1885-Epinay, 1961).

Beginning in 1894, the elders worked together: Louis as a clown and Paul as august; They executed what is called in terms of the trade of "reprises," that is to say, comic interludes between numbers. Francois, who was first a squire, had set up an acrobatic acrobatic serial number for Albert in 1900. At the death of Louis, Paul, Francois and Albert decided to form a trio; They had so many acrobatic, equestrian, musical, dance, mime, and other possibilities. They quickly found their way.

One can consider that the Fratellini were the first in clownish art to establish a perfectly balanced and harmonious trio: François, the clown, was an exceptional artist, of rare elegance, malicious, joker and non-aggressive authority; He was the model of the genre, he was grace. Paul created, in this difficult art, a new function incarnated by a new character: the counter-clown; August, refined and sensitive, it manifested, however, a certain exuberance and a verve all Italian; With François he led the game, tracing the structure and developing the argument of the "entries" (called "entries" the clown comedies of an abundant repertory, in contrast with the circus "numbers" definitely and invariably established). Finally, Albert, August, cultivated with happiness an outrageous appearance to better express the deep delicacy of his nuanced and subtle play; He was an excellent mime.


View full details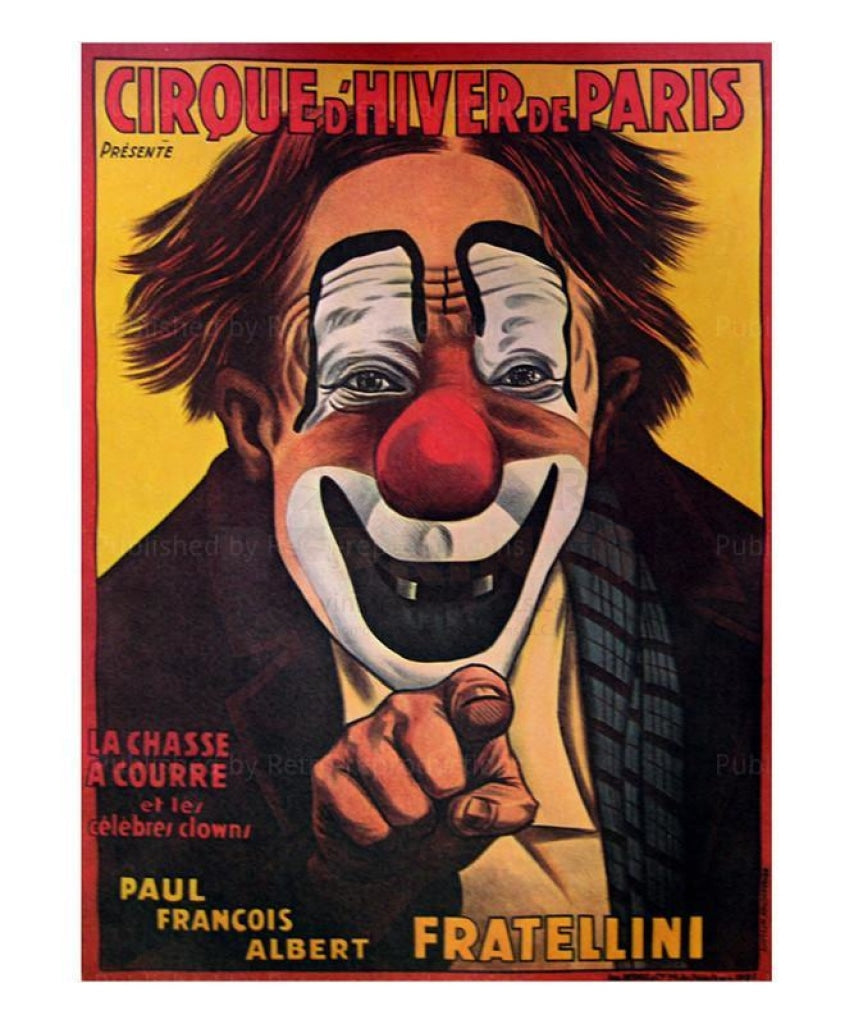 High Quality Reprints

Every piece of art is printed using premium materials. We carefully package and deliver your order to your door.

Wholesale Orders

We welcome wholesale inquiries on some of our products. Click here to learn more about our offering.