RRDG0057-1
Regular price
Sale price
$39.00 USD
Unit price
per
Sale
Sold out
Use your

account at checkout.
Share
Banania is a popular chocolate drink found most widely distributed in France. It is made from cocoa, banana flour, cereals, honey and sugar. There are two types of Banania available in French supermarkets: 'traditional' which must be cooked with milk for 10 minutes, and 'instant' which can be prepared in similar fashion to Nesquik.

During a visit near Lake Managua, Nicaragua in 1909, the journalist Pierre Lardet discovered the recipe for a cocoa-based drink. When he returned to Paris, he started its commercial fabrication and, in 1912, began marketing Banania with the picture of an Antillaise. Her image was replaced in 1915 with the drawing of a widely smiling Senegalese man.

At the outset of World War I, the popularity of the colonial troops at the time led to the replacement of the West Indian by the now more familiar jolly Senegalese infantry man enjoying Banania. Pierre Lardet took it upon himself to distribute the product to the Army, using the line pour nos soldats la nourriture abondante qui se conserve sous le moindre volume possible ("for our soldiers: the abundant food which keeps, using the least possible space").[citation needed]

The brand's yellow background underlines the banana ingredient, and the Senagalese infantryman's red and blue uniform make up the other two main colours. The slogan Y'a bon ("It's good") derives from the pidgin French supposedly used by these soldiers (it is, in fact, an invention). Slowly but surely, the slogan and the character became inseparable as the expression was coined: l'ami y'a bon ("the y'a bon buddy").[citation needed]

The form of the character has since evolved to more of a cartoon character. However, the original advertising has become a cultural icon in France. Posters and reproduction tin-plate signs of the pre-war advertising continue to be sold.



View full details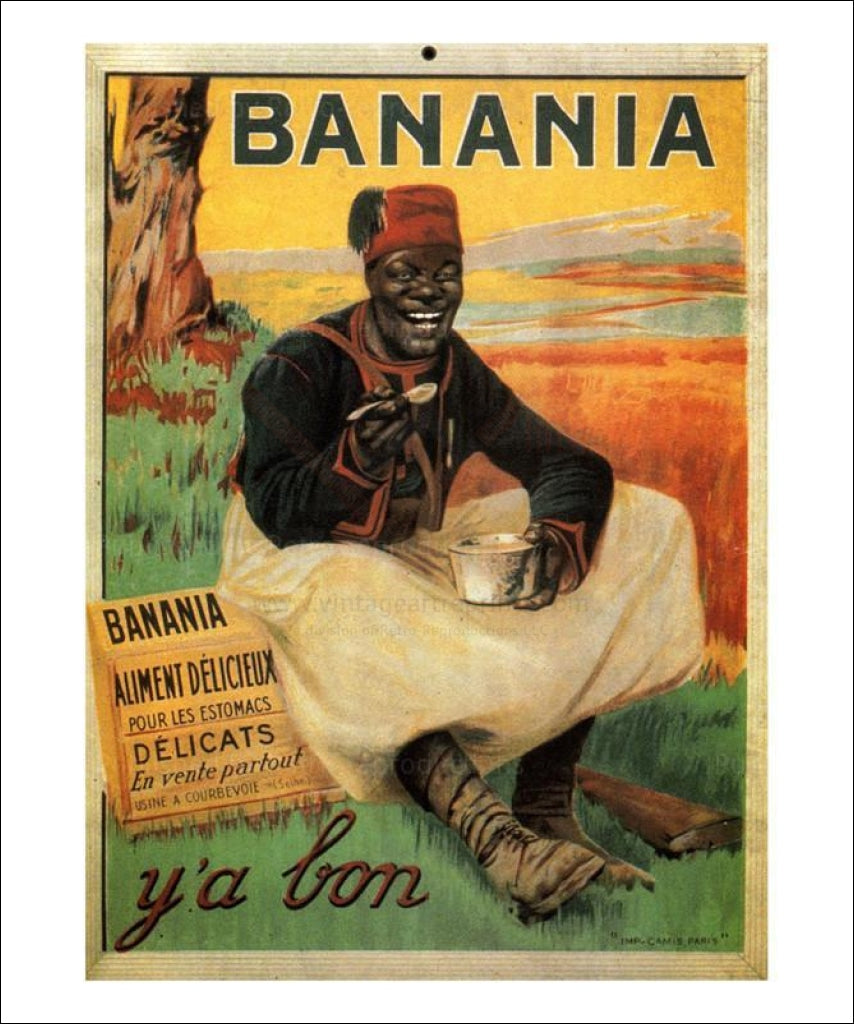 High Quality Reprints

Every piece of art is printed using premium materials. We carefully package and deliver your order to your door.

Wholesale Orders

We welcome wholesale inquiries on some of our products. Click here to learn more about our offering.