RR0027
Regular price
Sale price
$39.00 USD
Unit price
per
Sale
Sold out
Use your

account at checkout.
Share
Contempt (French: Le Mepris) is a 1963 film directed by Jean-Luc Godard, based on the Italian novel Il Disprezzo [A Ghost at Noon] by Alberto Moravia. It stars Brigitte Bardot. Release 1964.
Paul Javal (Michel Piccoli), a young French playwright who has found commercial success in Rome, accepts an offer from vulgar American producer Jeremy Prokosch (Jack Palance) to rework the script for German director Fritz Lang's screen adaptation of the Odyssey.
Paul's wife, Camille Javal (Brigitte Bardot), joins him on the first day of the project at Cinecittà. As the first discussions are completed, Prokosch invites the crew to join him at his villa, offering Camille a ride in his two-seat sportscar. Camille looks to Paul to decline the offer, but he submissively withdraws to follow by taxi, leaving Camille and Prokosch alone. Paul does not catch up with them until 30 minutes later, explaining that he was delayed by a traffic accident. Camille grows uneasy, secretly doubting his honesty and suspecting that he is using her to cement his ties with Prokosch. Her misgivings are heightened when she sees Paul grope Prokosch's secretary, Francesca. Back at their apartment, Paul and Camille discuss the subtle uneasiness that has come between them in the first few hours of the project, and Camille suddenly announces to her bewildered husband that she no longer loves him.
While founded on_Alberto Moravia's story of the progressive estrangement between a husband and wife, Godard's version also contains deliberate parallels with aspects of his own life: while Paul, Camille, and Prokosch correspond to_Ulysses,_Penelope, and_Poseidon, respectively, they also correspond in some ways with Godard, his wife_Anna Karina (his choice of female lead), and_Joseph E. Levine, the film's distributor. At one point, Bardot dons a black wig which gives her a resemblance to Karina. Michel Piccoli also bears some resemblance to Brigitte Bardot's ex-husband, the filmmaker_Roger Vadim.
View full details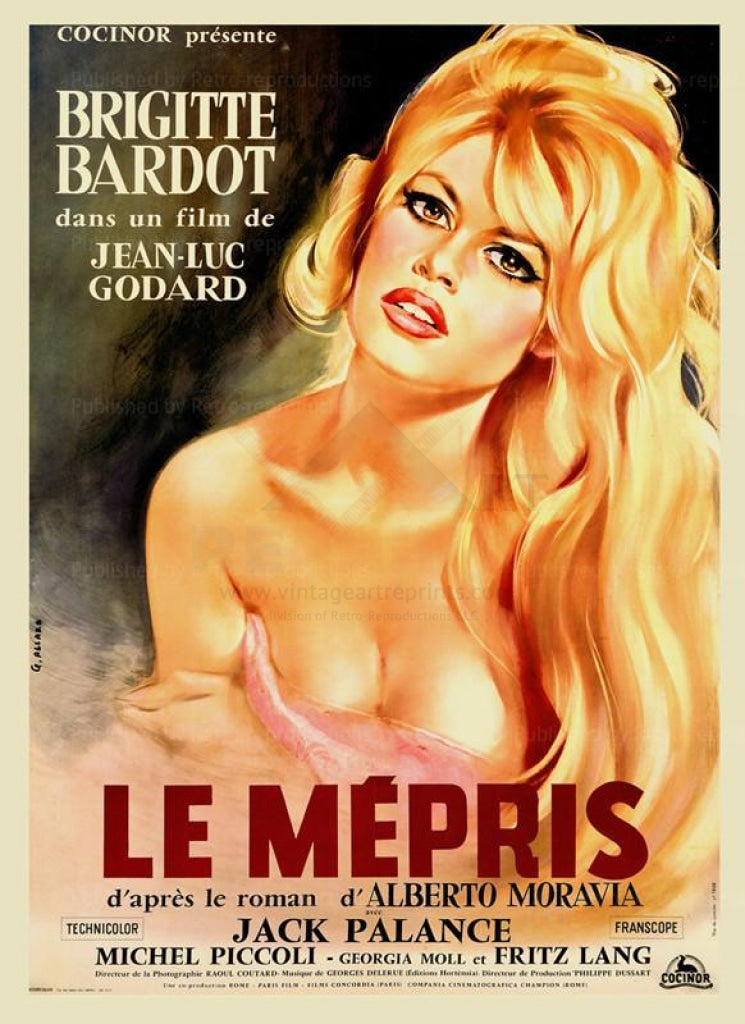 High Quality Reprints

Every piece of art is printed using premium materials. We carefully package and deliver your order to your door.

Wholesale Orders

We welcome wholesale inquiries on some of our products. Click here to learn more about our offering.